The A Series
A5T Apache 5 HP Rotary Screw Compressors
Ideal for Noise-Sensitive Applications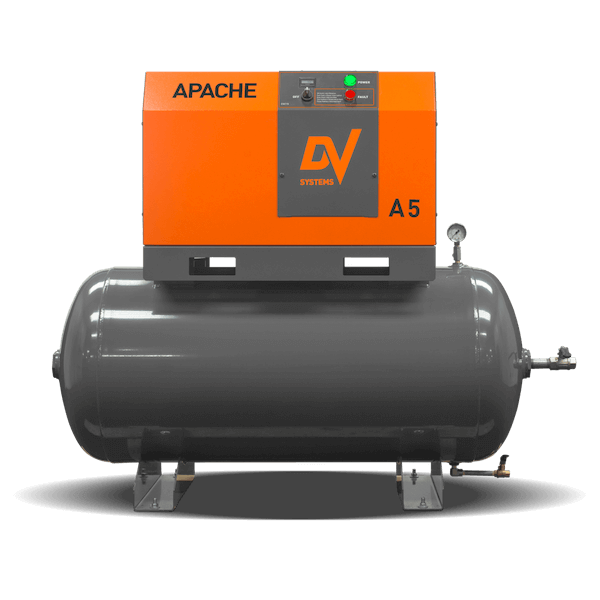 Quiet, compact & bullet proof The 5 HP Apache A5 rotary screw air compressor is ideal for the demands of automotive repair shops. A 100% duty cycle allows you to work comfortably 24/7 without worrying about air supply. An enclosed rotary screw design means you won't have to hear your air compressor pounding away all day long. Its compact size allows you to install it anywhere, and installation and maintenance are simple. Best of all, it's affordable.
Learn more by viewing the webinar.
Highlights
Extremely Quiet – 65 dBA
Ideal for Noise-Sensitive Applications
100% Duty-Cycle Operation
Ideal for 24/7 Continuous-Use Applications
Compact Design
Small Footprint
Integrated, Innovative Design
Engineered for Efficiency & Performance
Solid & Silent
Rugged Construction, Silent Operation
CSC15 Controller
Microprocessor Control Solution
5 Year Extended Warranty
Rugged Construction & Long Life
Download the DV Systems A5T Apache 5 HP Rotary Screw Compressors Brochure (PDF)
Features & Benefits
Fixed Speed, Belt Drive
Ideal for continuous-use applications with constant compressed air demand. Demonstrating efficient power transmission from the motor to the airend, the fixed-speed, belt-drive system provides maximum flexibility in pressure selection and features an automatic belt-tensioning system.
Solid & Silent
Engineered to effectively minimize noise levels. Designed with solid steel base frames and floors, powder-coated, heavy gauge, acoustically insulated steel cabinets and sound attenuating foam barriers with an oil resistant coating.
CSC15 Controller
Effectively manages, monitors and maintains optimal operational parameters to ensure stable system pressure and reliable operation. Simply operated, the controller features an hour meter with power and fault indicator lights:
Fault indicator light flashes at different intervals to communicate different faults
Service reminder indication with service reset
Power interruption protection
Anti-reverse protection
High-temperature limit protection
Optional remote start-stop
Programmable relay output for run, load & fault status
Engineered For Efficiency
The simplified, reduced-component, encapsulated design of the airend enhances reliability and contributes to silent & efficient operation. The industrial grade ODP motor maintains constant motor-efficiency and offers a wide operating range with exceptional full/part load performance.
Accessories
DV Remote Start Kit: Part # DSC-002852
Control and monitor your air compressor from anywhere in your shop with the rugged DV remote panel. The large, bright indicator lights allow you to easily see whether the air compressor is turned on or if there is any service required. The keyed switch ensures safety and security in controlling your air compressor. The Durable polycarbonate enclosure is water and dust proof.
Electronic Zero Loss Auto Drain: Part #KK-9860
An electronic drain ensures that any potential condensate is discharged from the air receiver tank regularly, optimizing system performance.
Performance
Power 5 HP
Delivery 16 SCFM at 145 psi
Sound 65 dBA
Drive Technology Fixed Speed, Belt Drive and Auto-Tensioning
Electrical
Motor ODP (Open Drip Proof)
Motor RPM 1740
Single Phase 230V/60Hz
Configurations
A5T Tank Mounted (60 Gallon)
A5TD Tank Mounted (60 Gallon) with Air Dryer (ASD15) & 1-Micron Pre-Filter